"I've been working with Chamberland for several years and have found them to be excellent. They have consistently found me great tenants and are proactive and helpful with anything that I need. I've worked with every member of team at one point"
M. Harris, Let Only Landlord
"A dynamic team headed up by Nicole, Liz is outstanding on the administration and the staff are always so polite and helpful, nothing seems too much trouble."
P. Sykes, Managed Landlord
"Nicole and her team provide an extremely high quality service. They go the extra mile to get the job done efficiently. Very hardworking team."
Y. Shenoy, Let Only Landlord
"I can not recommend Chamberland Residential highly enough"
J. Jarrett, Let Only Landlord
"As Landlords, we have used Chamberland Residential to let our 3 studios ever since they first opened up in Putney. We have always found their service to be excellent, far exceeding the service received from any of the other Putney agents that we used in the past. They have a very personal touch and, even though they do not manage our properties, if we have a problem that we cannot deal with ourselves they are always happy to help."
C. Hewitt, Let Only Landlord
"Chamberland Residential handled a potentially sensitive agency transfer, with a tenant in-situ, with great efficiency and diplomacy. Additionally they accepted some specific requests regarding the in-situ tenant, who is a long-standing and reliable one whom I was keen to retain long-term. Overall Chamberland Residential have shown themselves to be very client-orientated, approachable, and available. I wouldn't hesitate to recommend them to any other landlords."

F. Lopez, Managed Landlord
"Zoe has been incredibly helpful to me as an overseas based landlord throughout the time I've had my property with Chamberland. Zoe and the rest of the staff are friendly, accommodating and approachable. Highly recommended and very competitive in the market. 5 star service"
J. Coulter, Managed Landlord
"This agent has been really on the ball. As a landlord to know that your best interest are always carefully monitored is of vital importance.
Their understanding of the legalities of the industry is excellent, and their prompt responses to email's makes them a delight to work with! Outstanding agency."
R. Koenig, Managed Landlord
"I am very happy with Chamberland Residential in general. I pay for their premium client service which is exactly what I get. They are proactive, professional, on the ball and a pleasure to deal with."
E. Barker, Managed Landlord
"In short, a consistently strong and impressive performance by this dynamic letting agent."
J. Gladwin, Let Only Landlord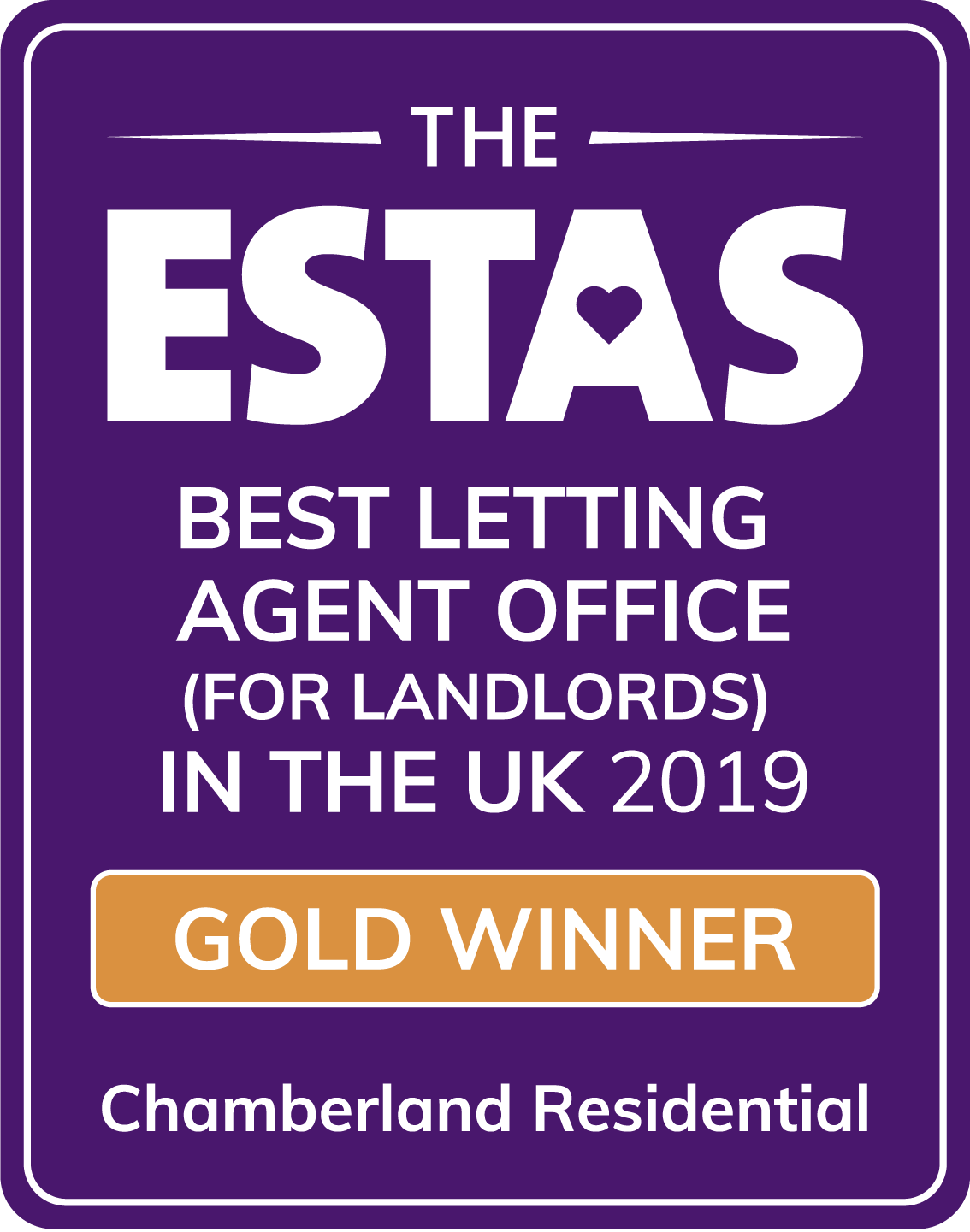 We are beyond excited to announce our very successful evening on May 20th 2019 at the ESTA Awards this year. After a two year hiatus, not only did we regain our Gold title for Best Letting Agent London (South West) as voted for by Landlords, but this year we entered into the "voted for by Tenants" category and won the Gold Award. As if that wasn't enough for us, Chamberland Residential was announced as the winner for the GRAND PRIX AWARD FOR BEST LETTING AGENT OFFICE IN THE UK! The team worked tirelessly this last year and the votes and testimonials proved this tenfold. Thanks to all our Landlords and Tenants that kindly took the time to vote for us and provide valuable feedback, its much appreciated. Here's to keeping these coveted titles in 2020!